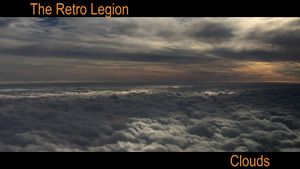 THE RETRO LEGION
Clouds is paired with a book of poetry--The Wild Delight of Wild Things, and can be found as a QR code link in the back of the book (as well as on all of the usual streaming platforms). It's meant to help process the reading of the book itself.
Clouds is a project made possible by many kind-hearted souls and talented artists. I'm overwhelmed by the generosity of spirit each brought to the creation of this music, and I want to thank everyone involved for making an idea become a living artwork—a sound meditation that I hope will prove meaningful for you.
In a larger sense, though--Clouds is a meditation that I hope will prove meaningful for you as a sonic landscape that you might use to explore where you are in your life, or some aspect of your own experience. I'd love to hear your thoughts on this, too. Please consider sending a message if you're moved to do so. 
American Undertow accompanies Brian Turner's poetry collection The Goodbye World Poem (Alice James Books, September 2023). Album by The Retro Legion. Mixed and Mastered by Benjamin Kramer at 2pi Creative Studios.
Chantal Thompson is featured here, singing on "Gasoline Love," "Broken Down Lovers," "Monsoon," "Wayward Traveler," "Slow 70s Groove," and "Love Love Love (Change the World)."
After my best friend, Brian Voight, died of cancer in 2012, I never thought I'd make music again. At some point I found myself listening to recordings Brian had made of us after I returned home from the war--the two of us on acoustic guitars playing songs into a microphone. Those rough recordings inspired me to see them made into full songs. In "Gasoline Love," for example, that's Brian's voice in the intro--and that's him playing his steel string guitar.
"

The music of Brian Turner's American Undertow frays the seam between present and past, love and grief, and living and dying. "Slow as smoke, a lifetime in the vein," we learn in the first track, and the music echoes that swirl, the restless undertow of being on the American road and going nowhere, of soul kissing a ghost, a kiss that tastes like death, a death that feels like love. "We've been dreaming down this highway, mapped by stars and heartbreak," Turner sings. Listening opens and names that space, out on the American margins where some of us reside. It's erotic, blue, foggy with a brew that tastes like "a graveyard of gin" whirlpooling in its glass, never fully empty, never wholly full." " - Diane Seuss (author of frank: sonnets and Modern Poetry)
Little Birds Singing accompanies Brian Turner's collection The Dead Peasant's Handbook (Alice James Books, October 2023). Album by The Retro Legion. Mixed and Mastered by Benjamin Kramer at 2pi Creative Studios.
Terri Kent is featured here, singing on "Divisadero & Olive," "Fire on the Mountain," "Ain't That a Shame," "First Sunny Day," "Got to Love You," and "Waterfall."
 You can also hear Ilyse Kusnetz singing on the last three songs of the album, while Brian Voight also plays guitar in the last section of "Some Have Wings."
Bill Tuell wrote the song, "Moonlake Rising" for our brother, Brian Voight, while Brian Turner wrote and arranged the lyrics/vocals for the song.
This is an album that begins in difficulty and resolves in a more radiant space. All of us in The Retro Legion hope that listening to the music might make you feel radiant, too.